---
Dr Matjaž Mihelčič, ECOO President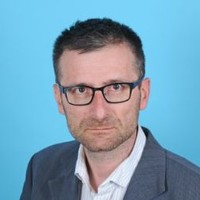 Matjaž studied Optometry in Munich in 2001 – 2003. In 2008, he completed the Master-programme in Aalen / Germany. In 2010 – 2015 he did an interdisciplinary PhD at the Faculty of Arts in Ljubljana, at the Experimental Psychology programme in the subject Visual Stress and Cognition.
Matjaž is author of several innovations in the optical field. From 2008 to 2020, he was regular lecturer at University of Velika Gorica at the Optometry programme; from 2019, he is lecturer at Aalen University, at the Master programme. His major work is clinical practice at »Optika Mesec« in Bled, Slovenia. His interest fields are prescription of special contact lenses, binocular vision correction and the problems of visual near point – stress and myopia growth. Since 2006, he is the president of Optical Association of Slovenia, organizing conferences, seminars and workshops in optical and optometry topics yearly. He is founding member of European Academy of Optometry and Optics. He is regular visitor of professional and scientific conferences in Europe and in the USA. In the years 2004 – 2022 he held over 100 Presentations and workshops at national and international level and has published several papers. He took part at several clinical and research projects, including one funded by Eureka programme.
He is former professional windsurfer and is passionate kitesurfer. Matjaž has a family; his wife Vida is a singer and an optician; they have four sons. He speaks Slovenian, Croatian, German, English, French and Italian.
---
Gabriëlle Janssen, ECOO President-elect
Gabrielle Janssen studied optics (1994) and optometry (1998) in the Netherlands and was awarded the Fellowship of the American Academy in 2010. In 2018, she graduated for her MBA Health with a 9 (out of 10) for her thesis.
As president of the Optometrists Association Netherlands and president elect of the European Council of Optometry and Optics, she is responsible for focusing and taking the right steps to strengthen the position of opticians and optometrists within eye care. An eye for the interplay of positioning, organising the collective, the member's 'what's in it for me' and the organisation's infrastructure is essential to achieve the goals. The combination of working as an optometrist and as a director creates enthusiasm and commitment in the various positions, all with the aim of contributing to the prevention of unnecessary blindness and low vision.
---
Dr Cindy Tromans, ECOO Immediate Past-President
Cindy Tromans graduated Aston University with a BSc(Hons) in Ophthalmic Optics in 1985 and received a PhD from the University of Manchester, Faculty of Medicine in 1991. She is currently Consultant Optometrist and Head of Optometry Services at Manchester Royal Eye Hospital Honorary Clinical Lecturer in the University Department of Ophthalmology, University of Manchester, where she specialises in emergency eye care, therapeutic contact lenses, keratoconus and ophthalmic ultrasound and maintains an active clinical and research role in these areas. Cindy has held a number of national roles which include President of the College of Optometrists from 2010 to 2012 and is currently the International Clinical Representative of the College. In her international role she is the Chair of the UK's Joint Optical Committee for the European Union and represents ECOO as a Director of the World Council of Optometry.
---
Peter Gumpelmayer, ECOO Treasurer
Peter Theo Alfred Gumpelmayer is the President of the Federal and Upper Austrian Council of Allied Health Science Practitioners, having held this position since 2010. Previously, he acted as President of the Upper Austrian Council of Opticians, Hearing Aid Specialists and Orthopaedic Technicians, from 2004, and as Chairman of the Scientific Association of Optometrists and Opticians in Austria, from 2002-2010. Mr. Gumpelmayer earned his Bachelor of Optometry from the University of Durban-Westville (South Africa), and has been practicing as an optometrist and hearing aid practitioner for over 12 years, with professional stints in his native Austria, but also the UK, New Zealand, and Africa. He has also been involved in academia, teaching at the WVAO Easterakademie in Hall in Tirol (Austria), as well as writing, compiling and translating examination items of the ECOO European Diploma (German/English). Mr. Gumpelmayer was the Chairman of the ECOO Professional Services Committee until October 2014, after having previously been a member of the ECOO Education Committee between 2006-2010. He was the ECOO President from 2016 until 2018. He speaks German, English, French and has an understanding of Afrikaans.
---
Dr Sylwia Kropacz-Sobkowiak, Chair of Professional Services Committee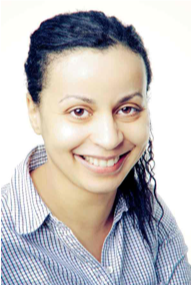 Sylwia is an optometrist and contact lens specialist. She studied for her B.Sc. in Ophthalmic Optics at Adam Mickiewicz University, where the then gained an M.Sc. in Optometry. In addition she has an M.Sc. in Clinical Optometry from Salus University (2008). She received a Ph.D. degree from Poznan Medical University (2022).
On a daily basis, Sylwia runs a private practice, where she fits speciality contact lenses for children and adults. In addition to working as an optometrist she is also an academic lecturer at Adam Mickiewicz University.
Sylwia is former President of the Polish Optometric Association. She is currently Education Consultant for the Polish Society of Optometry, Board member of the Polish Association of Contact Lenses and a member of the Accreditation Commission for Optometry and Optics in Poland. She has been an ECOO delegate for Poland since 2011.
---
Jesus Garcia Poyatos, Chair of Public Affairs and Economic Committee
JESÚS GARCÍA POYATOS is the International affairs Advisor of the Spanish General Council of Optometry (CGCOO), as well as its meeting planner for issues including continuing education. Jesús has been active for 10 years in clinical optics private practice, complemented by academic and public policy work in the field of optometry and optics. During the past 15 years, he has also been involved with the CGCOO in various capacities, including as the representative to the European Council of Optometry and Optics (ECOO) and to the World Council of Optometry (WCO). In 2008, he was appointed an executive member of the prestigious Spanish peer-reviewed Journal of Optometry. Jesús holds a Bachelor's Degree in Optometry from the European University of Madrid (Spain), a BSc in Optometry and an MSc in Clinical Optometry from the Pennsylvania College of Optometry (U.S.), as well as a Masters in Corporate Events Management from the Complutense University of Madrid. Since 2010, he has enjoyed the status of member of the European Academy of Optometry.
---
Professor Julie-Anne Little, Chair of the European Qualifications Board
Professor Julie-Anne Little graduated with a BSc (Hons) Optometry from Ulster University in 2002, and received her PhD in 2007.
She is currently Associate Professor (Senior Lecturer) in the Centre for Optometry & Vision Science at Ulster University, UK, where she teaches Ophthalmic Dispensing, visual perception and function, and clinical optometry on the undergraduate BSc and MOptom programmes, and is course director for the MSc in Advanced Clinical Optometry.
She also pursues research and has supervised several PhD researchers. Her work has a focus on investigating refractive error, accommodation and visual function in childhood, those with special needs and visual impairment. Her research also highlights the unmet need for eyecare services both in the UK and with a European and global focus, and overall aims to optimise vision, educational attainment and quality of life through effective eye care and interventions.
Over 40 publications in high-impact journals and international presentations disseminate this work. She has a strong external profile in optometry as past President of the European Council of Optometry & Optics, and nationally as a Chairman of the Association of Optometrists. She has significant experience in the development and implementation of Optometry curriculums as Chair of the ECOO European Qualifications Board and Co-Chair of the ECOO Accreditation Agency, in external examiner roles, and as a previous Educational visitor for the General Optical Council, UK.
---
Elaine Grisdale, Secretary of the Public Affairs and Economic Committee
Elaine is ABDO's Head of Professional Services and International Development. She qualified as a dispensing optician and first registered with the General Optical Council in 1985. She is a Liveryman of the Worshipful Company of Spectacle Makers, a Fellow of the American Academy of Optometry and a Fellow of the European Academy of Optometry and Optics. She is a Trustee of the Board for the European Academy of Optometry and Optics, Secretary of JOCEU (Joint Optical Committee on the European Union), Scientific Committee Member of the Silmo Academy in France and a member of the Jury Verres for Silmo. Elaine is also the Director of Development for the International Opticians Association whose role is "to enhance and develop the optical profession around the world" She is based in Manchester in the UK.
---
Pavel Šebek, Secretary of the ECOO Professional Services Committee
Born in Prague, Czech Republic, a water-civil engineer by education and an events organiser by family heritage, Pavel started his career within optics and optometry as an interpreter for the Association of Czech Opticians and Optometrists in the early nineties, soon becoming their foreign affairs manager and events and congress organiser.
He represented the Czech Association for the first time at ECOO in 1995, where he realised that the Central, Eastern and Southern part of Europe was not really participating in international optometry affairs. He therefore, on behalf of his national association, organised from scratch seven Congresses for Central and Eastern European opticians and optometrists, along with their professional associations and educational institutions. These congresses created a joint platform for optics and optometry in the various countries of Central, Eastern and Southern Europe and subsequently brought these countries to become new members of ECOO.
The congresses grew into the three editions of now legendary Twinning Universities Project for Optometry "TUPO" conferences, organised in cooperation with ECOO and financially supported by CIBA Vision. Later, these congresses were absorbed by European Academy of Optometry and Optics and thus sparked its foundation.
In 2004 Pavel became the secretary of the ECOO Education Committee and in 2012 he became the secretary of Professional Services Committee.
On national level, he has been the Secretary General of the Association of Czech Opticians and Optometrists and as well as many national professional congresses, exhibitions and social parties he organised ECOO GA Meetings in Prague in 2004, 20011 and 2017.
Pavel's contribution to the international optics and optometry might not be directly through the academic knowledge of the professional matters, but rather through his knowledge of many other fields and aspects of the profession and life happenings.
Within Pavel's optics and optometry career it is necessary to mention the pivotal role of the Association of Czech Opticians and Optometrists, which has supported his international activities over the years and stood behind him even during the realisation of the many events.
---
Fabienne Eckert, Secretary General
Fabienne Eckert has been closely involved in the day-to-day activities and projects of the ECOO Secretariat since October 2010. She has been serving as acting Secretary General from January 2013 and was elected Secretary General in April 2013.
As a German national who lives in Brussels, Fabienne has in-depth knowledge of EU Public Affairs and experience in the management of European associations and stakeholders engagement.
Fabienne holds a Master's degree in European Political and Administrative Studies from the College of Europe in Bruges and a Bachelor's degree in International Management and Modern Languages from the University of Bath, UK.
---
Ann Blackmore, ECOO Secretariat Manager
Ann has an extensive background in policy and public affairs in both the UK and Europe. She was a UK representative on ECOO from 2014 to 2020, during which time she served as secretary to the Public Affairs and Economics committee. She joined the ECOO secretariat in 2021.
---